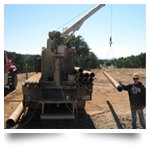 There are several reasons why you can be confident that the construction of your well and installation of your pump will be done correctly.
Choosing a well drilling & pump contractor is an important decision. Here are some of the reasons why you can trust W.S. Heitman Drilling & Pumps:
We are fully licensed, bonded and insured
24/7 Emergency service available
Free on-site estimates
Trust through integrity – We are people of our word-no hidden costs, accurate drilling logs, honest hard work ethic.
When you need us, we are there!  We are a company that strives to provide the best possible service in the industry at a fair price.
Over 100 years combined experience and knowledge in this region's geographic patterns and formations allowing us to estimate the depth of a well more accurately. This contributes to our success in constructing high-producing wells.
We have drilled thousands of wells over the past few decades and nearly every one of them is producing water for our customer's daily needs
We use state of the art drilling and support equipment which helps us ensure proper well construction. Having the right tools for a specific task is crucial to getting the job done right.
We install only the top of the line quality products that are considered the best in the industry. These products outlast economy versions, thus saving you money over the long run.
Heitman Drilling is a full service Water Well Drilling & Pump company.
We will take you from the application of your water well permit (for new and replacement wells) to the pump and pumping system that puts water into your drinking glass.
All work is done to meet the current ministry of environment standards, ensuring that you have a safe and legal well.
Members of the

California Groundwater Association

and the

National Groundwater association.
Whether drilling a 6" domestic well or an 8-12" production well, W.S. Heitman Drilling & Pumps has the experience and resources to handle your drilling needs.