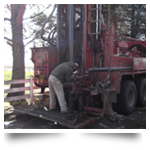 Wes Heitman, founder and president of W.S. Heitman Drilling & Pumps, was born and raised in Red Bluff, Ca. Heitman Drilling is based out of Red Bluff and serves the entire north state
In 1976 Wes then bought his first drill rig, a mud/air combination. In 1977 he bought a new Schram T64 and mounted a Tigra Tierra casing hammer, this being the first on a Schram in the state. Serving locally, it quickly became the #1 drilling and pump com any and still is today. The credit for the lofty position of being #1 goes to the loyalty of our many, many customers who appreciate our unwavering position of honesty and our high standards or material and workmanship. In this same respect, our employees honor these parameters, many of which have worked for Heitman Drilling 20 years and more.
W.S. Heitman Drilling & Pumps is a family owned and operated company which was founded in 1976 and incorporated in 1978. All of or our equipment and our yard is located in Red Bluff with two more offices in Chico. We are members of the National Groundwater Association and the California Groundwater Association.We attend yearly conventions for both and attend seminars to continue our education and to stay on top of all the changes and advancements in the industry.
Wes Heitman (founder and president) is an executive board member of the California Groundwater Association.