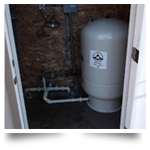 Improperly abandoned water wells are a serious liability. Once ground water is contaminated, it is difficult, if not impossible, to clean up, and the process is always expensive. The logical course of action is to remove the liability by properly plugging, and sealing, or decommissioning all abandoned wells before water contamination occurs.
The purpose of proper Abandonment:
One of the best ways we can protect the quality of our groundwater is to promote and carry out proper abandonment procedures.
Well abandonment has a single main objective: To prevent contamination of aquifers. While this simple statement is indeed the overall objective of proper abandonment, there are three specific and concrete reasons why it is very important to carry out proper abandonment procedures.
To prevent physical hazards
To prevent pollution entrance
To prevent the intermixing of aquifers
How to locate an abandoned well?
Landowners suspecting there may be old and unused wells on their property have several recourses.
Talk to Individuals:
To prevent physical hazards
To prevent pollution entrance
To prevent the intermixing of aquifers
Physical Evidence:
Windmills or wishing wells.
Casing visible above ground, concrete slab or basement floor.
Small outbuildings (may be well house)
Circular ring in cement or patch in the floor
Basement offset (small room off of basement).
Patch in step or concrete (access for well below).
Pit in yard or basement
Manhole cover.
Crock, brick or stone structures
Hand pump, hydrant, or faucet in yard
Waterline or patched hole through basement floor or wall
Water system components (pressure tank, pump, control box)
Damp circular depression in yard
Additions, false walls, access panels which may "hide" well
Old building sites recognizable by an old foundation
Ornamental shrubs, flowers, or trees outlining old, home or farm sites
Records Search
Water Well Record or Water Well Plugging Record at local health department
Water well or sewage disposal permits at local health department.
City, township or county officials – zoning or building permits
Municipal water department – records on water line extensions to homes previously served by water wells.
Old photographs of the property.
Aerial photographs of the property (showing windmills, well houses).
County plat book, soils map, or topo map showing locations of buildings, roads.
Owner's records (bills, deed easements) or information written on pressure tank, control box, etc.
Equipment and Tools
Metal detector
Tape measure or "snake" to follow pipes
Digging equipment including shovels, hammers, chisels, backhoe
Magnetometer or electro-magnetic anomaly detectors (these are available through groundwater consultants).